Malampaya foundation spawns native, biggest giant clam
Jul 08, 2019
The first ever in-situ spawning of the Palawan native species of the biggest giant clam, Tridacna gigas, was commenced by Malampaya Foundation (MFI) and partners to help increase its declining population at Western Philippines University (WPU) Hatchery in Binduyan, Puerto Princesa City.
University of the Philippines Marine Science Institute (UPMSI), forerunner of giant clam conservation in the Philippines, supervised the spawning activity where about 9.5 million eggs were fertilized from native giant clams located at Dos Palmas.
Dr. Lota A. Creencia of WPU College of Fisheries and Aquatic Sciences said, "Tridacna gigas is hard to propagate because the population is few. We need to really go to the brood stock [source] to collect eggs and sperms, compared to other species of clams which numbers can still afford to be brought into laboratories."
Once sufficiently matured, the native Tridacna gigas will be deployed to MFI's marine protected areas in the north of Palawan.
Sherry Lyn Sayco, researcher at UPMSI, said, "Important yung giant clams dahil marami silang ecological significance, habitat and food for some of the marine animals. It also benefits people because it helps increase fish density."
Meanwhile, the Tridacna gigas, with a known .01% survival rate, is one of the most endangered clam species and was even declared extinct in the Philippines in the 1980s. In order to bring it back, UPMSI, under the leadership of national scientist Dr. Ed Gomez, took specimen coming from the Pacific Islands and grew it in the country.
Surprisingly, it was found that the Philippine-native species of the Tridacna gigas still exists in Palawan. Dr. Gomez himself confirmed this during his visit at the spawning site in Dos Palmas.
Creencia said there are reports that prove the giant clams found in Palawan are native, "Kasi ang sizes na nandito sa Honda Bay ay really bigger [compared to the ones spawned from Pacific Islands], pero para maconfirm lang ay magcoconduct ng molecular study."
The spawning activity was in line with MFI's "String-of-Pearls of Project" that has begun last year, successfully multiplying two other species of giant clam namely Tridacna squamosa and Hippopus hippopus, which will be deployed to effectively-managed marine protected areas (MPAs) in North Palawan communities. MFI has been partnering with communities, local governments and agencies in Palawan, Oriental Mindoro and Batangas to establish, expand and set-up proper management and protection mechanisms for MPAs since 2013.
MFI's String of Pearls Project is also in partnership with Palawan States University, Western Philippine University, Palawan Council for Sustainable Development, and Dos Palmas Resort & Spa.
Shell Philippines Exploration BV operates the Malampaya Deep Water Gas-to-Power project on behalf of the SC38 consortium.
THE SPAWNING: After injecting serotonin to the Tridacna gigas, the diver must wait for the clam to induce, first, sperm cells, followed by egg cells. For the collected sperms and eggs to fertilize, a certain proportion has to be followed. Photo taken during the first spawning activity of Palawan genome Tridacna gigas last June 1 at Dos Palmas.
AT THE HATCHERY'S LAB: Photo shows MFI Biodiversity Conservation Manager Pacifico Beldia II observe the early phase of the Tridacna gigas fertilized eggs' development, last June 1 at the laboratory of WPU Hatchery in Binduyan, Puerto Princesa City. On the average, a juvenile must spend six months in the hatchery before it is placed in ocean nurseries. When it is finally released into the wild, it has to be caged during the initial months for further protection it until it matures enough to survive on its own.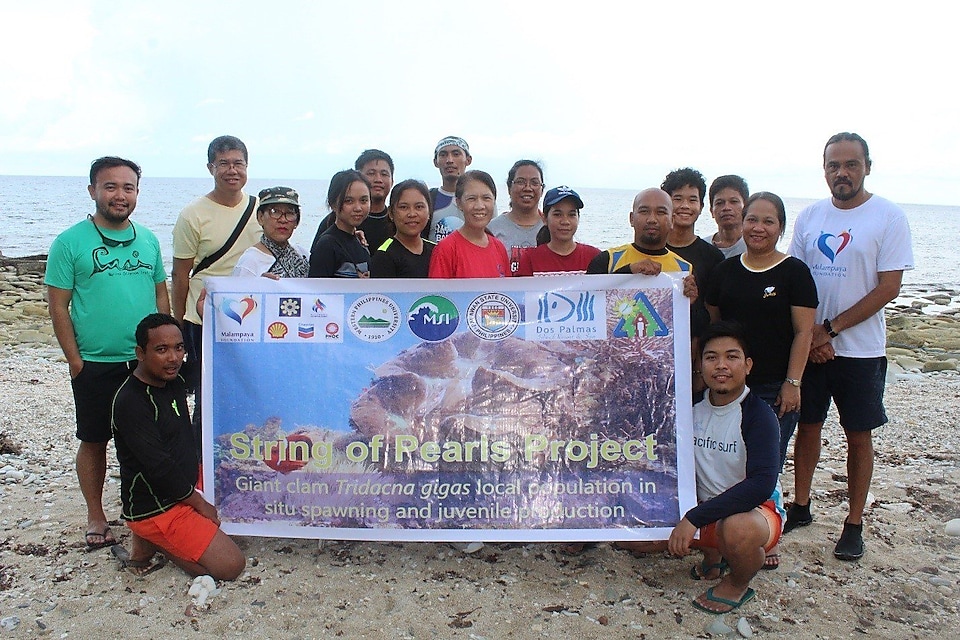 THE TEAM: Malampaya Foundation, Inc., Western Philippine University, University of the Philippine Marine Science Institute, Palawan State university, Dos Palmas Resort & Spa, and Palawan Council for Sustainable Development welcomed the month of June by commencing the special project of helping Palawan genome Tridacna gigas increase in numbers.
YOU MAY ALSO BE INTERESTED IN
Shell launched its #MakeTheFuture campaign with an event designed for kids at the Mind Museum in Bonifacio Global City Taguig.
Shell Eco-marathon Asia 2019, at the heart of Make the Future Live Malaysia, has come to a close with teams from Thailand, China and Singapore demonstrating the best energy efficiency within their respective prototype categories.
Official launch of the event marks the start of Shell Eco-marathon Asia 2019, one of the world's longest running student mileage competitions that challenges teams to design, build and test ultra-energy efficient vehicles.