Together, Let us Make the Future
Mar 14, 2019
MANILA – Collaborating and being an active participant of a thriving ecosystem result in a brighter, better future, Malampaya General Manager Don Paulino opined in his insightful talk, "Together, let us make the future", at the 80th Philippine Institute of Chemical Engineers (PIChE) National Convention held recently in Crowne Plaza Hotel, Ortigas.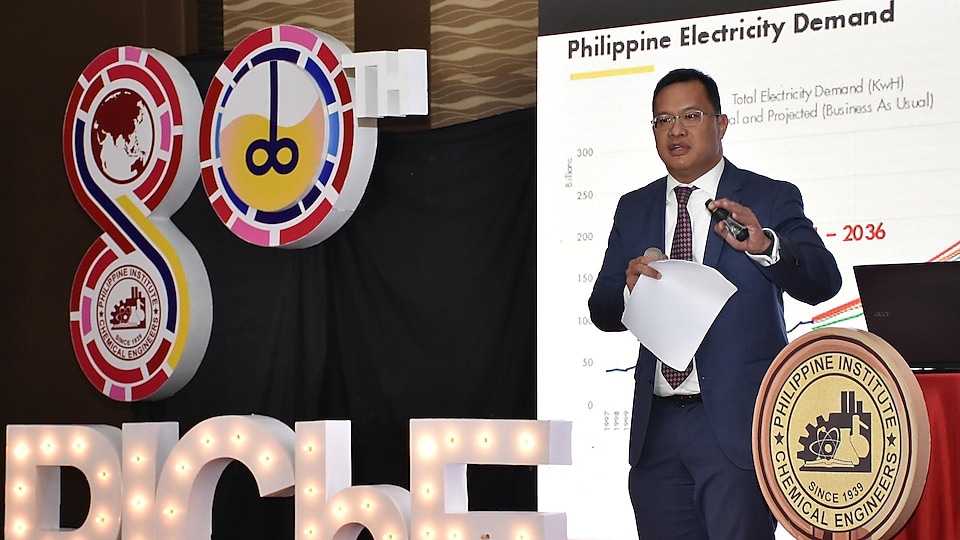 Shell Philippines Exploration (SPEX) GM Don Paulino delivers an insightful session at the 80th PIChE convention in Ortigas
SPEX GM Don Paulino together with PIChE CAMANAVA President Elen Perlado (left) and PIChE National President Jonathan Aquino (right)
Deep diving into the importance of collaborations between the public and government sectors to boost the Philippine economy and address the challenges of today, Paulino said, "A robust ecosystem can only exist through collaboration and leadership. In the past, it is always great for somebody to be ahead. But one brilliant mind alone can't solve the complexity of the problems we are facing today."
Paulino leads the Malampaya Deepwater Gas-to-Power project, one of the most successful Public-Private Partnerships (PPP) in the history of the Philippines. During his session, Paulino highlighted that through fruitful collaborations, Malampaya continues to fuel up to 20 percent of the country's power needs and has contributed over USD 10bln in government revenues.
Paulino also talked about the importance of having a solid grasp on one's purpose of existence to help others achieve success. "We are not here to just survive. We are here to develop a mature ecosystem which will enable growth and development to Filipinos. In our industry, we mobilize people to have a brighter and better economy for the Philippines."
To close, Paulino posed a daunting challenge to members of the audience: "You are already part of an ecosystem, being part of PIChE. But think about how can you, as Chemical Engineers, be part of an ecosystem that boosts economic growth for the country. Start being a catalyst for this ecosystem. Work in unison to make things happen for the Philippines."
Empowering Chemical Engineers from all over the country, PIChE continues to stimulate collaborative efforts among industry, academe, government, and other civic and professional organizations to advance the technical competence of its members through its 80th convention, attended by over a thousand Chemical Engineers all over the Philippines.