Partners in Tubbataha conservation
The partnership between Pilipinas Shell Foundation, Inc. (PSFI) and Tubbataha Management Office (TMO) is stronger than ever.
Through the Turismo at Negosyo Dulot ng Ingat Kalikasan (TANDIKAN) programme, PSFI supports Tubbataha Reefs Natural Park (TRNP) conservation under the project "Monitoring Climate Change and Developing a Public Constituency that Supports Adaptation: A Private-Public Partnership."
Tubbataha Reefs, composed of two uninhabited atolls and the adjacent Jessie Beazley Reef, is located 92 nautical miles from Puerto Princesa City, Palawan, at the geographic centre of world marine biodiversity. It has an area of 97,030 hectares encompassing 10,000 hectares of coral reefs and surrounding waters.
As one of the Philippines' UNESCO World Heritage Sites, TRNP is considered an international model for coral reef conservation and a mecca for scuba divers. With no less than 600 species of fish, 360 species of corals, 11 species of sharks, 13 species of dolphins and whales, 100 species of birds, and 2 species of turtles, Tubbataha's position at the apex of the Coral Triangle means it is an international priority for marine biodiversity conservation. Ultimately, it has a great role in providing the Philippines with adequate supply of marine life for present and future stock and consumption.
In 2007, Shell Global, in cooperation with UNESCO World Heritage Centre, conducted business planning activities which showed that tourism revenues will need to be doubled to sustain financial feasibility. However, seasonal access to the Park precludes dive tourism operations outside the 3-month tourism window. Consequently, TMO intensified its marketing and promotional efforts in order to increase tourist visits. Since 2007, tourism arrival has increased by 47%.
"Shell has also made a commitment not to explore for, or develop, oil and gas resources in natural World Heritage Sites. While we do not operate in areas such as Tubbataha, we still deemed it important to support in its conservation efforts, recognizing that it is a spawning ground for marine life for which many of our community stakeholders, most of whom are fisherfolk, depend on," explained Sankie Simbulan, Social Performance Manager for Shell Philippines Exploration B.V. (SPEX), operator of the Malampaya gas project located northwest of Palawan.
Over the last five years, PSFI has provided financial resources to enable the effective management of the Park by supporting capability development among its managers. It has also supported information and education initiatives in communities and in the areas where illegal fishers in Tubbataha originate, widening the reach of Tubbataha, thereby increasing understanding and fostering stewardship among the public.
"Through the partnership between PSFI and TMO, we educate coastal communities on the importance of protecting Tubbataha so that its beauty and bounty may continue to abound for present and future generations," said Simbulan.
"Before Shell, there were many things TMO couldn't afford. Most of Tubbataha's financial support comes from its fees. They get minimal support from the government," said Marvi Trudeau, PSFI Programme Manager. "After the business plan was made, Shell has provided a grant mainly used for research; and information, education, and communication campaigns."
The Tubbataha Youth Ambassador Programme is one of the most valuable products of the grant. It has involved youth, who are passionate about marine conservation efforts, to disseminate information and educate the public about the socioeconomic and ecological value of Tubbataha.
"The youth feels that the work they do keep the reefs healthy. They connect with kids through relevant skits, games, and the like," said Trudeau. "Getting the youth involved ensures consciousness of sustainable development into the next generations."
The area is managed under a "no-take" policy with tourism and research being the only activities allowed within it. Enforcement is difficult in a park as vast as Tubbataha. Wide support for voluntary compliance is needed.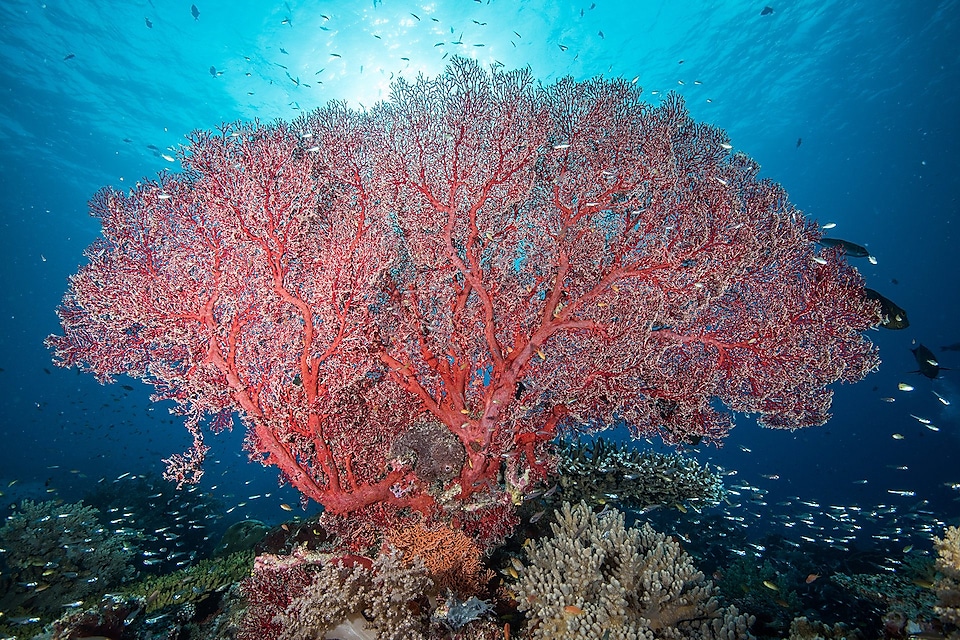 Impact of climate change on Tubbataha
According to TMO, "Human-induced climate change is perhaps the single biggest threat to the future of Tubbataha." Increasing water temperatures and ocean acidification may cause the corals to go through a bleaching event that puts them under a lot of stress and at risk of dying.
The PSFI-TMO partnership also aims to monitor climate change impacts in Tubbataha through regular research activities. Furthermore, results will be used to develop a public constituency that supports adaptation mechanisms through information, communication, and public outreach activities.
By Elvin Madamba
Article published on PSFI news magazine October 2016 issue

More in Environmental Stewardship
Volunteers gathered to plant mangroves in Roxas City, Capiz as part of Shell's Yolanda rehabilitation programme.
Pilipinas Shell Foundation, Inc. partnered with the Ecosystems Research and Development Bureau of the Department of Environment and Natural Resources for the establishment of a clonal nursery at the Shell Training Centre in Pililla, Rizal.