World Malaria Day and stakeholder engagement
World Malaria Day 2016 was celebrated in the village with the most number of malaria cases in Palawan – Sitio Ogis, Barangay Ransang, in the municipality of Rizal. 
As early as April 23, Rizal Rural Health Unit (RHU) workers, Pilipinas Shell Foundation, Inc. (PSFI) staff, volunteers, and barangay leaders hiked to Sitio Ogis. The site was prepared for indigenous people (IP) families not only from Ogis, but from other sitios as well – Pinagar, Magtanor, Balen-Balen, and Signapan. A makeshift covered area was put up for the programme proper. Small huts were also constructed for the conduct of advocacy activities and diagnostic services and treatment.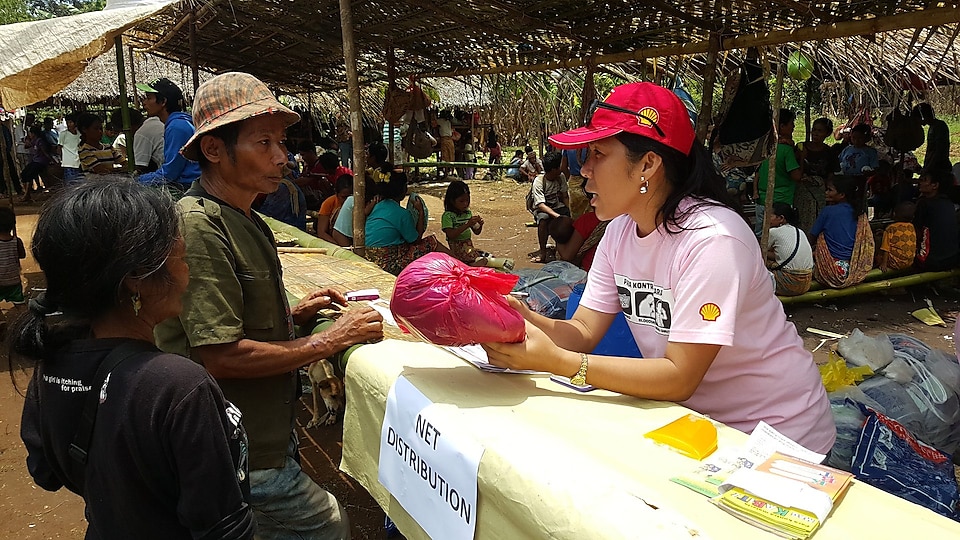 The event started early on April 25. A total of 710 individuals completed the blood smear for malaria parasites (BSMP), with 61 being malaria-positive and 14 asymptomatic. All were provided with anti-malarial medicines. Long-lasting insecticide-treated nets (LLINs), rapid diagnostic test kits, medicines, pregnancy packs, food packs, and school supplies were also distributed. Meanwhile, the municipality of Rizal provided manpower assistance, a generator set and fuel, a vehicle for transport of commodities, sleeping mats, and additional food for the community members.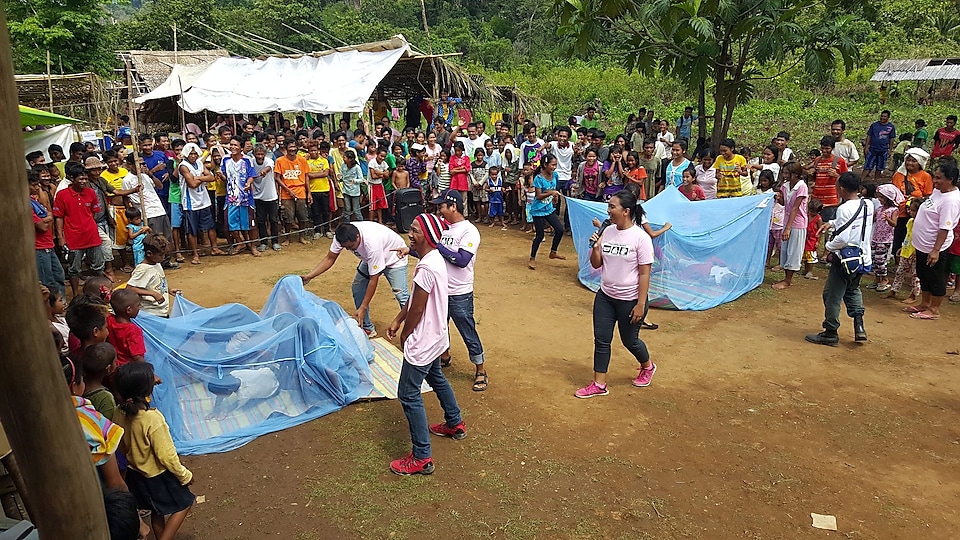 Hon. Alrie Nobleza, Mayor of Rizal, graced the event and was very sincere in his message of putting a stop to malaria. Using the Palaw'an dialect, he challenged the IP community to stay away from mosquito bites. 
Also present in the event were the health workers from the Municipal Health Office, led by Nurse Rutchell Laborera. In her message, she called for everyone's cooperation and assistance, including that from the private sector and other agencies. She said, "Every little help we can get will bring us a step closer to providing malaria services to those who need them most." 
Malaria lectures were facilitated by Kilusan Ligtas Malaria (KLM) Community Organizers Ryan Paccial and Joseph Hermoso, and PSFI Project Officer Krizel Jane Cañedo. While some community members queued for LLINs and BSMP, others participated in informative games and performed malaria jingles.
Stakeholder engagement with missionaries
Missionaries serving the IPs in the upland areas gathered for a one-day meeting on April 27, 2016 in Rizal. Because the IPs trust the missionaries and respect their views, Laborera expressed the need for their assistance in reaching the affected population. Addressing the missionaries, she said, "We hope that we can count on you to help us in sending help to your church members."
In a presentation delivered by KLM Programme Manager Aileen Balderian, she emphasized the malaria situation in Rizal. She particularly discussed issues and concerns of the communities living in the mountains, such as their poor health-seeking behaviour and cultural beliefs – two factors affecting the fight against malaria. It can be recalled that there were deaths caused by malaria because parents refused treatment for their children, believing they should leave their fate to a higher being.
The Department of Health Centre for Health Development IV-B Administrative Officer Chona Bulalaque provided a malaria 101 session for the missionary participants. During the session, misconstrued information had to be corrected, and several tales, carefully rectified. 
To break one major perception that a dose of medicine can cure malaria, the participants were persuaded to engage their constituents to actively use the LLINs when sleeping every night, and take other measures to prevent mosquito bites when conducting social activities such as tabuan or market day.
Commitment-setting
"The fight against malaria is not just the Provincial Health Office's (PHO) struggle; it is each and every one's concern," remarked PHO Representative Julie Gaite. Calling on all stakeholders to be involved in the fight against malaria, she said, "A lot of interventions were made by RHU and PSFI, but our tally of cases last year increased. Hence, we should double our efforts and look after each other."
By Ynna Lauron
Article published on PSFI news magazine October 2016 issue
More in Health, Sanitation and Safety
With the rise of Pilipinas Shell Petroleum Corporation's newest terminal at the port of Cagayan de Oro – the North Mindanao Import Facility – promoting road safety within and even outside the port was considered a necessary action to take. 
With easy access to more localized weather information and updated weather forecasts, Weather Philippines Foundation, together with its partners like Pilipinas Shell Foundation, Inc., aims to build a #WeatherWiser nation.