Empowering women through livelihood and entrepreneurship
Pilipinas Shell Petroleum Corporation (PSPC) continues to solidify its social performance as it rolled-out sets of training on sewing for women of Brgys. Tabangao, Ambulong, and San Isidro, Batangas City; this is part of the Social Development Plan under the Shell Tabangao Asset Renewal-Tabangao Refinery Euro-IV (P) Compliance (STAR-TREC) Project.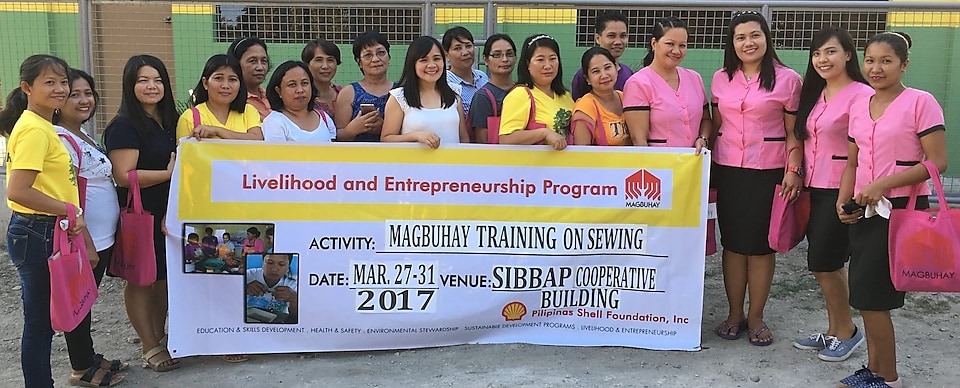 Pilipinas Shell Foundation, Inc. (PSFI), in partnership with Silangan Ibabao Batis Bulihan Araneta Proper (SIBBAP) Multipurpose Cooperative and Lakas ng Mangingisda sa Baybayin ng Tabangao (LAMBAT), conducted Maghanapbuhay sa Bahay (Magbuhay) training sessions on sewing from February to March this year. Magbuhay, a programme introduced in 2012, evolved from the idea of giving livelihood opportunities to housewives by developing their income-generating capacity, thus helping sustain the financial needs of their family.
With the city's compliance to Environmental Code Ordinance No. 16, Series of 2010 or the regulation on the use of plastic and Styrofoam materials for packaging, the training also originated from the need of Batangas City residents for eco-bags. Currently, SIBBAP Cooperative is producing eco-bags, t-shirts, jogging pants, school uniforms, curtains, bed linens, throw pillows, pillow cases, and rags.
"We are positive that these training sessions will not only develop the participants' technical skills, but also mould their social well-being," said PSFI Programme Manager Olivia M. Sorio.
The cooperative received seven new heavy-duty machines and raw materials from the Department Labor and Employment after their business proposal was granted by the latter. They also opened the training to non-Ambulong residents and non-cooperative members. "Because of the collaborative effort of everyone, this training became attainable. And because of this, we would like to share these learnings and extend the opportunity to help others. I'm sure that there is a bright future with this endeavour," said SIBBAP General Manager Marie Antenor.
Mariana Cortez, one of the members of SIBBAP Cooperative, detailed how the Magbuhay training made a huge impact in her life: "I consider the skill I learned as imperishable because I can use it for the rest of my life. I am forever grateful for this opportunity because I am able to help my husband in meeting our family's financial needs. But more than that, I am willing to share what I have learned as it would be my greatest honour to contribute something in the development of our society."
With the collective help of PSPC, PSFI, and the local unit of Ambulong, the said cooperative transferred at the newly constructed Multipurpose Cooperative Building, which houses the Garment Production Centre. During the building inauguration on March 24, PSFI formally handed over a check worth Php 300,000 as grant fund in support of the garment production livelihood programme.
By Jim Palma and Olivia M. Sorio
Article published on PSFI news magazine October 2017 issue
More in Livelihood and Agriculture
Pilipinas Shell Foundation, Inc. supports Malaya National High School's K-12 programme on agriculture.
Accelerating the development and adoption of next-generation rice varieties for major ecosystems in the Philippines.