Kicking off a bright future for children
Pilipinas Shell Foundation, Inc. (PSFI), an organization that has played an active role in Super Typhoon Yolanda relief and rehabilitation efforts in Tacloban, sealed a partnership with FundLife International in 2015 to implement the latter's Football for Life (F4L) programme for the benefit of 7 to 16-year-old children survivors of Barangays 69 and 70 (Anibong, Tacloban). The partnership was extended by another year – to July 2017.
PSFI provided funding for the implementation of the programme and rehabilitation of the community's basketball court, where play sessions were conducted by FundLife. By engaging, supporting, and empowering children who once got deprived of their childhood, FundLife, together with its partners like PSFI, has brought back color to the lives of these children.
When Super Typhoon Yolanda, one of the strongest typhoons in the world, severely hit the city of Tacloban in November 2013, homes were destroyed and lives were lost. With the trauma that the devastating disaster caused, children were left in a vulnerable state. 
To help the young survivors bounce back, FundLife started the F4L programme in Tacloban in 2014. Primarily developed to provide the first line of psychosocial support to children post-disaster, F4L was designed to engage them in regular play sessions, fostering positive core values fundamental to team building, camaraderie, and cooperation in a fun captivating climate. Not only does it bring children back to play, it also develops the capacity of locally sourced coaches to cultivate an authentic community ownership model.
As PSFI and FundLife's partnership came to a close this year, FundLife Founder and Programme Director Marko Kasic gave us his thoughts on how F4L made an impact in the lives of children and how PSFI helped in the process: 
"When F4L started in Anibong, there was no safe space for children to go. They would often dwell on the narrow streets, unsupervised, and without any organized activities. Thanks to the support of PSFI, F4L was able to repair the basketball court and turn it into a safe-space for children to play and serve as a venue for community activities.
"Through the delivery of F4L, children in Anibong had access to regular (3x a week) play sessions where they were able to develop their social, interpersonal, and soft skills. Through our local 'champion coaches', they were also given emotional support by having an ate/kuya figure helping them deal with personal/social problems.
"The programme, through the creation of an Anibong Football Team, gave children far more confidence and belief in themselves and taught them that no matter where they are from, they can reach their potential. The team participated in several festivals, playing with children from private schools. F4L gave them opportunities to go to Cebu and other places they had never been to. It connected them with foreign coaches and showed them that all people are the same - no matter where they come from.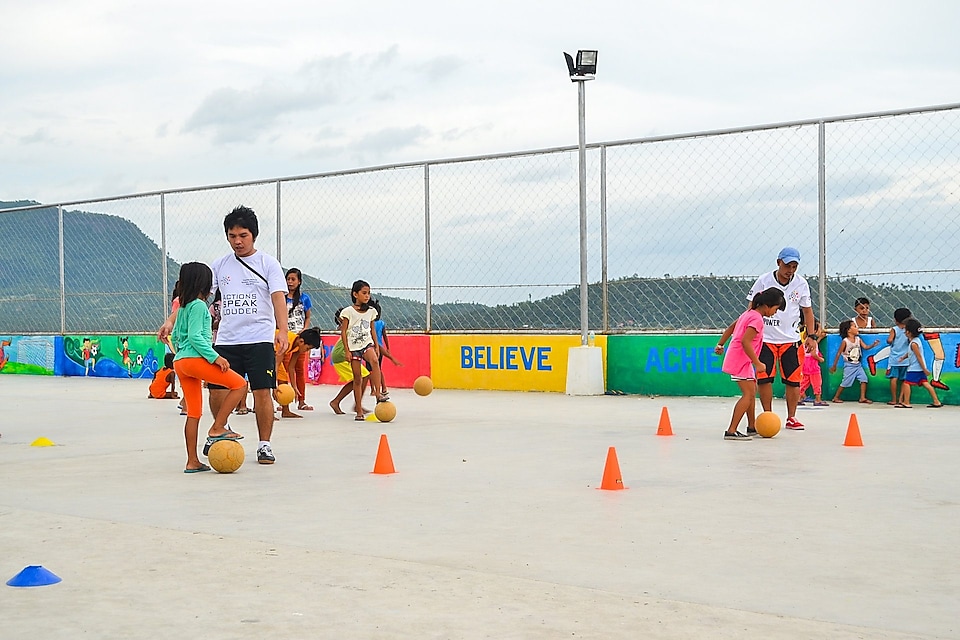 "Overall, I hope the programme encouraged the children to believe in their dreams, and that in the future, when they encounter challenges, they will be reminded that they can overcome them if they work hard and stay committed. 
"The F4L Anibong programme would not have happened without the support of PSFI, therefore it is not an understatement to say PSFI's contribution was absolutely critical to the programme's realization. ​
"A huge thank you to everyone at PSFI for giving us the opportunity to deliver this project for improving the lives of children in Anibong. We are extremely grateful that the programme gave an opportunity for the youth to serve as positive role models to others."
By Rachael Nathanielsz
Article published on PSFI news magazine October 2017 issue
More in Relief Rehabilitation and Resettlement
Beneficiaires of the resettlement project of Pilipinas Shell Foundation, Inc. and Habitat for Humanity receive their house keys.
With their partnership spanning over a decade, Shell and Gawad Kalinga have been unwavering in their commitment to provide homes and empower communities through capacity-building programmes.