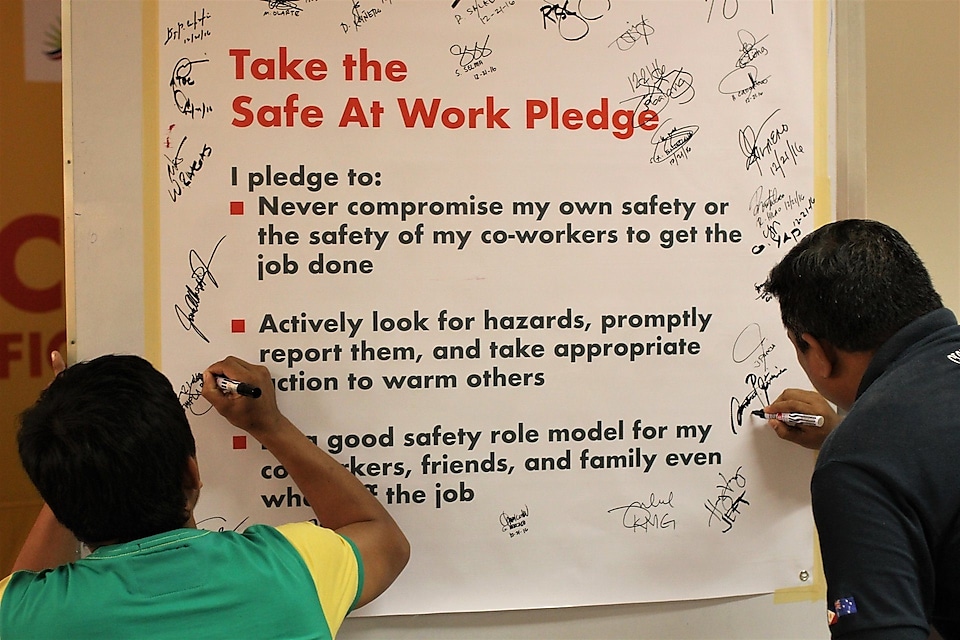 Promoting road safety in CDO City
Road Safety, one of the Social Investment themes of Shell Companies in the Philippines, has always been a big part of its operations. And with the rise of Pilipinas Shell Petroleum Corporation's (PSPC) newest terminal at the port of Cagayan de Oro (CDO) City – the North Mindanao Import Facility (NMIF) – promoting road safety within and even outside the port was considered a necessary action to take. 
When the Philippine Ports Authority (PPA) mentioned their aim of reducing road incidents inside the port area, Pilipinas Shell came into the picture. Seeing an opportunity to collaborate in achieving a safer environment for road users, PSPC, Pilipinas Shell Foundation, Inc. (PSFI), and PPA worked together to give a 3-day insightful and interactive Road Safety Seminar to PPA staff and partner trucking company representatives. The seminar, which served as an eye-opener to the participants, was held at the PPA – Port Management Office on December 19-21, 2016. It was facilitated by Jed Galang, a credible road safety practitioner with local and international exposure to a number of safety training courses.
According to Junger Niñeza (Operations Supervisor, Adri Trucking Services), the most important thing he learned from the seminar is self-discipline – learning how to manage our attitude on the road. As PSFI Program Development Manager Jay Javier said, "Everything is attitudinal. Put your competitive behaviour in other things, not on the road."
Moreover, Bryan Requinton (Manager, Trac Road Trucking Services), shared how important defensive driving is: "You should always yield. Learn to give way." By starting the change with himself, Requinton believes that continuous practice and assessment will go a long way.
By taking the Safety Pledge, the participants have committed to apply their learnings and share them in their workplace through meetings and re-echo seminars.
On behalf of PPA Port Manager Bong Butaslac, PPA Officer in Charge Gilbert Gimeno closed the seminar with positive words, thanking Shell and looking forward to safe days ahead: "I am hopeful that through applying everything we have learned in this seminar, we will be able to achieve the elusive dream of PPA to surpass 100 days without accidents."
NMIF Terminal Manager Walter Raagas said that PPA is planning to implement the Road Safety Seminar annually. However, this is still to be discussed with the Port Management Advisory Council. According to him, "Once this is formalized, PPA will initiate, and hopefully, Shell will still support."
Through the close collaboration between CDO City, PPA, Pilipinas Shell, and its business partners, NMIF was inaugurated in July 2016. It has started catering to the growing power and energy needs of millions of residents, motorists, and consumers in Visayas and Mindanao.
The construction and operation of the import facility is one of Shell's responses to meet the increasing energy demand and supply challenges—delivering smarter infrastructure, smarter products and cleaner energy, promoting sustainable mobility and developing new energy sources. These innovative methods address the energy challenge while mitigating environmental impact.
By Rachael Nathanielsz
Article published on PSFI news magazine October 2017 issue
More in Health, Sanitation and Safety
Strengthening the fight against malaria in Sitio Ogis, Rizal, Palawan 
With easy access to more localized weather information and updated weather forecasts, Weather Philippines Foundation, together with its partners like Pilipinas Shell Foundation, Inc., aims to build a #WeatherWiser nation.